Why we are building the Alice Camera
We've spent the last ten months building a camera more suitable for the next ten years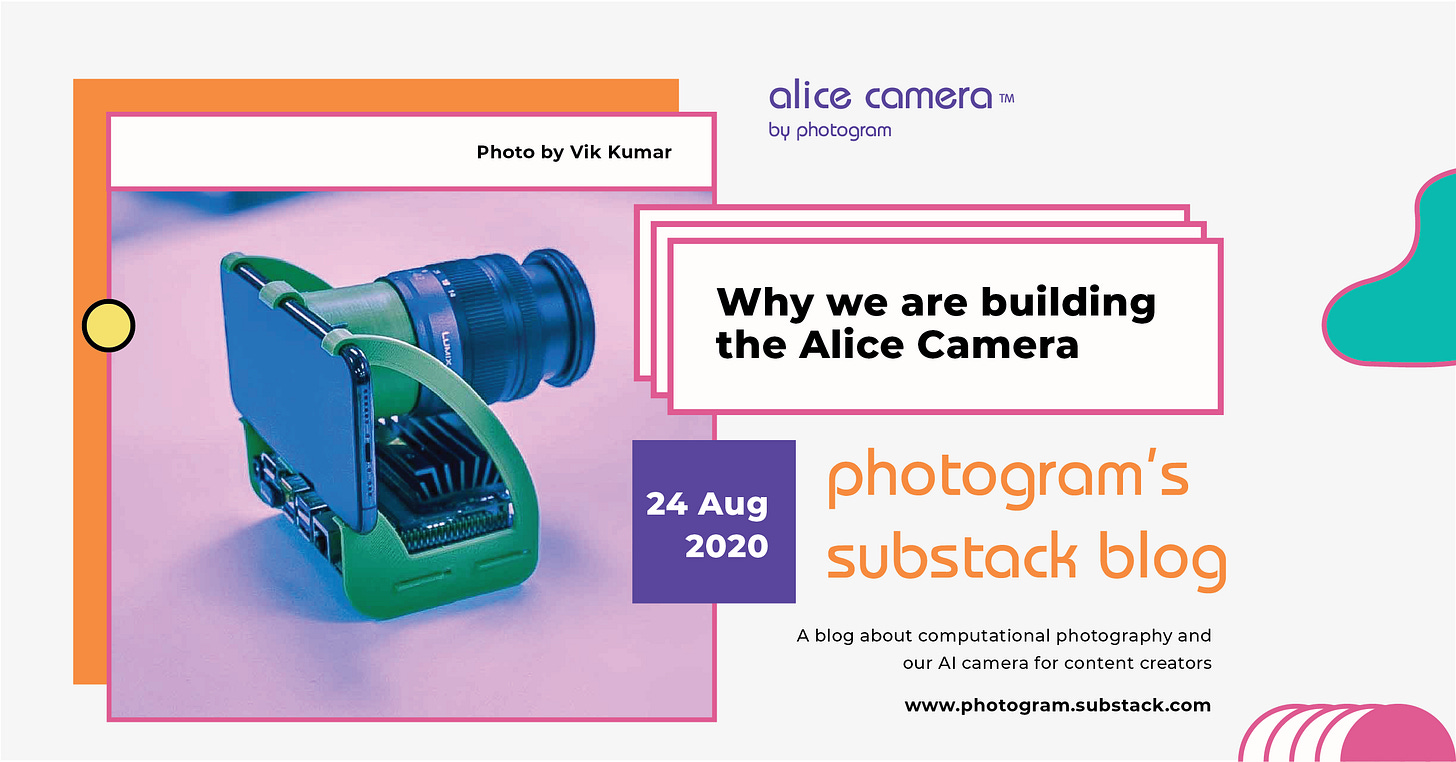 "More and more serious, famous people are making content themselves at home because of the c*****virus". Tony Northrup, an American photographer, describes the reality in which many millions of people around the world now live and work. Yet "nobody has really made the right vlogging camera", Tony laments as he gripes about the current state of digital cameras. "They don't really satisfy our needs".
Few digital cameras on the market today satisfy the insatiable lure and, for some, requirement to vlog. In 2020 digital cameras should be able to stream content seamlessly, perform on-device editing, and have simple, easy to use interfaces. But they don't. Unfortunately, cameras have seriously lacked meaningful innovation over the last ten years. Alas, many content creators have felt let down and find themselves on an epic, on-going decade-long struggle known as the quest for the perfect camera.
When you think about one of the most striking consequences of this global pandemic, and subsequent economic lockdown, it's that video streaming has gone utterly mainstream. Almost all aspects of social life can now be done via video streaming. But why is it that in an era of video abundance, and more exotic technologies such as virtual & augmented reality and e-gaming, are digital cameras not cut out for the job?
There doesn't seem to be a convincing answer to this question, not least by the camera manufacturers who produce them. It's quite astonishing that many camera companies have been so slow or reluctant to offer more innovative and helpful features, especially given that the sales of digital cameras have collapsed ten-fold over the last decade.
Enter the Photogram Blog
In this blog post, and throughout our pre-campaign series, we're going to go back. All the way back to beginning when the Photogram team started to think about tackling the very long list of problems with digital cameras. To kick-off the blog series we're going to tell the story about why we went ahead with building the Alice Camera.
Enter Liam and Vishal
The Alice Camera seemed like the obvious product for Liam and Vishal, the founders of Photogram, to create.
The story starts when they first met each other in April 2019 at Entrepreneur First, a 12-week programme where two strangers out of a select group of one hundred people are matched together and forced to start a business. What could go wrong?
The three-month long jamboree is essentially a crossbreed between the Apprentice and Love Island television shows where each pair goes on a blind date to try and come up with a business idea, and if things aren't working out they're encouraged to ditch the relationship entirely and start all over again.
Liam, an experienced PhD electrical engineer who had developed deep expertise specifically around commercialising AI-enabled embedded systems for creatives at the Royal Academy of Engineering, was on his second entrepreneur "date" when he met Vishal, a cultural data scientist at The Bartlett school at UCL and content creator in the creative industries, who was also on his second entrepreneur "date".
They both sparked their interests by talking about machine learning tools for creatives and had agreed that the abundance of image and video content provided enough fertile ground for innovation. In one specific conversation they had both vented their frustrations at the lack of innovation in digital interchangeable lens cameras and how they weren't really fit for purpose any more. After this, Liam came up with an ambitious proposal for thinking about a new type of camera for digital photography.
By leveraging Liam's technical expertise and interest in photography with Vishal's data science skills and experience as a content creator, and with the increased access and affordability of AI-enabled hardware chips on the market today, they believed that maybe they could reimagine the camera as a computer built entirely from the ground up to suit the needs of the modern content creator.
However, before going down the rabbit hole the two took significant steps to challenge and validate their assumptions. Liam and Vishal undertook one hundred face-to-face interviews with content creators to see whether they felt the same way as them. The complaints that arose from these conversations conjured up a pong so bad that it was clear that creators had been cheesed off by the lack of innovation with digital cameras. Liam and Vishal were convinced they could solve some of these problems with their combined skillset. They saw an opportunity to revive the digital camera industry.
Enter Vik
By the time it was August 2019, Photogram had left the Entrepreneur First programme and joined the UCL university incubator in King's Cross, London, and Vik, an ex-banker and practicing photographer, had joined the team.
Through their initial customer research, the team had learnt that creators still wanted professional camera lenses and sensors because they will always provide far superior raw images than those that can be squashed into a smartphone, but they wanted the app functionality and image sharing features of a smartphone.
Photogram's solution was to pair the optical systems from DSLR/mirrorless cameras together with the connectivity of a smartphones into an innovative new product to address the dire problems that still exist with interchangeable lens cameras. Importantly, they decided to think about how the user's smartphone could be leveraged as part of the overall product experience.
There were many aspects of the product that the team still needed to refine so they set up a very detailed ten-minute survey on Typeform. Thanks to a total of 1,300 submissions, content creators had provided the Photogram team with extremely valuable information about their thoughts and suggestions on the physical design of the Alice Camera, what software and AI features they valued the most, and insight into their current post-processing workflow. The product development of Alice has been guided by these data at every step along the way.
Having produced several iterations of the Alice Camera throughout the concept design stage, the Photogram team alongside their product design partner, Aetha Design, finally realised the Alice Camera. Alice will have better connectivity than a DSLR and higher quality than a smartphone and, rest assured, it has been designed with content creators and vloggers in mind. Alice has a micro four thirds sensor and interchangeable lens system with a dedicated AI-chip that elevates machine learning and pushes the boundaries of what a camera can do.
What you just read was a story about why we decided to build the Alice Camera. In short, we all now live in a new world of image and video abundance and unfortunately your digital camera is just not up for the task at hand. Through a series of engagements with you, we've spent the last ten months building Alice because we believe creators deserve an optical device more suited to the next decade.
Our core value proposition with Alice is to develop a camera that is easy to carry around, one which makes post-processing efficient, with an intuitive user experience and connectivity to share content instantly. In addition, it will be an open device that gives you access to the underlying software to deeply customise your creative process all without compromising on quality and at an affordable price.
Alice is in concept prototype stage and we're taking Alice to Indiegogo in October 2020 (so that together) we can raise the money to manufacturer this camera. We are now accepting pre-order deposit payments of £50 ($65) that will be used to develop our final prototype and fix bugs. By being one of the first people to place a deposit, our incentive is to offer you the Alice Camera (body only) for the unique and exclusive price of £450 ($585), but you'll have to be quick because there's only 70 cameras left at this price. The Alice Camera will start at £550 ($715) on Indiegogo.
We strongly believe that artificial intelligence and computational photography have the potential to fundamentally change the photographic industry and art form to the same extent when digital replaced film twenty years ago. We want to harness AI to drive this change and challenge the concept of the digital camera for the next decade. With your help (Yes, you as well, Tony!) together we can finally make a camera that can truly satisfy your needs.