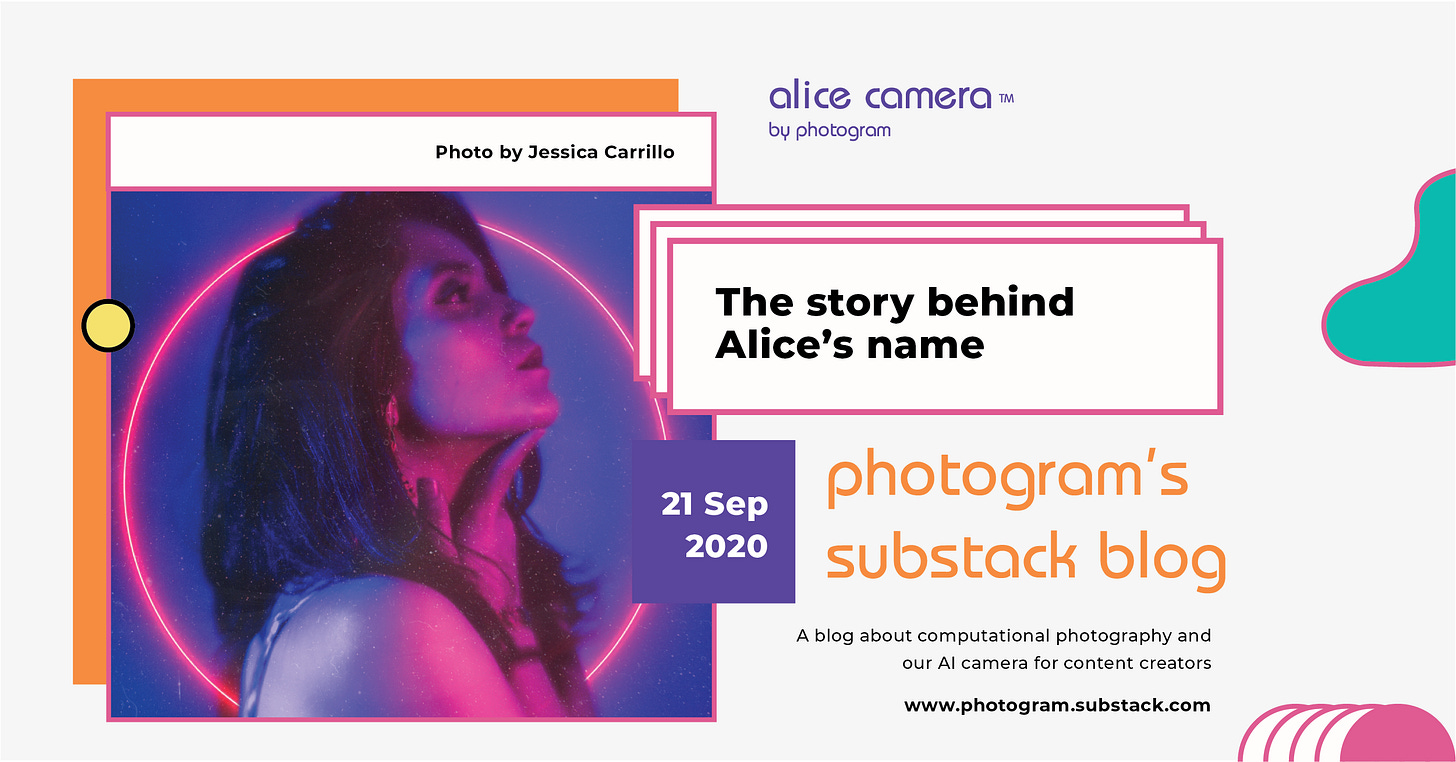 When we started to build our AI-accelerated computational camera we were faced with a challenge: what should we call it? We certainly did not want to call it anything remotely close to the current DSLR or mirrorless cameras on the market because their names sound hugely unappealing and agonisingly dry.
We were searching for a name that would turn heads.
Carolina, a poet and a friend ours, came up with the ingenious idea to call our AI-accelerated computational camera, Alice Camera. A simple, elegant and relatable name unlike the names of most digital cameras where the combination of letters and numbers are too difficult to remember even when sober.
In this post we're going to tell the story about how the name Alice came about. It was a completely spontaneous moment. A spark of imagination.
---
Catching up with old friends
Three days before pitching their idea to a group of investors, Vishal and Liam were faced with a conundrum: what should they call their AI-accelerated computational camera? They had spent weeks speaking with photographers and content creators to refine their ideas and even began developing a first working demo of their camera.
But, they still didn't have a name for it.
Enter Carolina
On the evening of the same day, Vishal was on his way to a pub in Marylebone, London, to catch up with an old friend, Carolina, a writer and poet.
The two hadn't caught up in months. They spent the best part of several pints chatting about their lives and the various projects both had been working on. Vishal told Carolina about the camera he was working on with Liam, and Carolina was talking about a new series of poems she was about to release on her Instagram.
After the pub they had made plans to walk to an underground art and music event where one of their mutual friend was the DJ. On the way to the event, Vishal asked Carolina, "So, what do you think about our AI-accelerated computational camera?".
"An AI-accelerated computational camera… what does that even mean? You need to think of a better name". Carolina urged Vishal to come up with a snappier name.
"I know", Vishal agreed, "It's a bit of a mouthful isn't it! Liam and I haven't really agreed on a name yet. Have you got any ideas?"
After about three seconds of silence Carolina suggested, "How about Alice?"
Initially Vishal was confused, "Hmm... why Alice?"
"You know, an AI… accelerated… computational… camera… Alice! It's not a direct acronym but it's much simpler", Carolina insisted. "Also, it would be fun to play on the Alice Through the Looking Glass phrase".
In an instance, Carolina had whizzed up a name for their camera. Both of them had stopped in the middle of the street.
"Alice… I like it", Vishal murmured to himself. "Wow, Carolina, you're a genius!".
The DJ is a photographer!
It was around 8pm and the two finally arrived at the party. The entrance to the event was obscure. A dark, heavy door opened from the street corner into a corridor illuminated by neon lights and the ground was vibrating by loud music.
Carolina and Vishal walked down a couple flights of stairs until they entered a large, dimly lit gallery populated by about fifty people, many of which were dancing. Their friend, the DJ, who happened to be a very keen photographer, saw the two enter the gallery and gave them a wave.
One thing particularly struck out to Vishal: there were several people around the room holding vintage cameras. It was not until Vishal moved around the gallery did he realise that he was at a photography exhibition. At the bar Vishal bumped into one photographer who was exhibiting that night.
"Hey, are you one of the artists exhibiting here tonight?", the Photographer asked. Vishal noticed a Leica D-Lux 7 hanging from his neck.
"No, I was in invited here by a friend. I'm a startup founder and we're building a new type of digital camera called the Alice Camera", Vishal tried his luck with the name Carolina had only just suggested about half an hour ago.
"Alice. That's a cool name for a camera", the Photographer replied.
"Yeah, we're trying to do something different. We're pairing the optical system of a digital camera with a dedicated AI-chip that will run helpful computational photography algorithms", Vishal explained.
"Sounds very fancy. Let me know when it's free to test out. I'd love to give it a try!", the Photographer replied enthusiastically.
The next morning
The next morning, Vishal met Liam in a cafe in Bermondsey, South London, for a chat about how to prepare for their investor meeting the following day.
As the two were waiting for their breakfast Vishal eagerly said to Liam, "I've got a name for our camera… Alice. Alice Camera!".
Liam looked a bit perplexed. "Alice?", he replied.
"Yeah, Alice. A friend of mine suggested it last night", Vishal explained.
"I was at an event with my friend Carolina and I told her about our camera. She suggested that we use the name 'Alice' because it's a nice abbreviation for 'AI-accelerated computational camera' and she also explained that we could play with the Alice Through the Looking Glass phrase…", Vishal continued to explain.
Liam needed some time to think about the name.
To help them decide the two founders thought it would be sensible to test the name with several photographers and content creators. In the afternoon they phoned a few people whom they'd met earlier in the month to get their thoughts and perspectives on the name 'Alice Camera'. They told them the rationale for the name — based on Carolina's suggestion — and, to their pleasant surprise people seemed to be liking it!
They decided to use Alice Camera as a holding name for their investor presentation. Vishal quickly updated all the brand assets on their slide deck and got comfortable with using the name to describe their camera. When they presented their concept in front of investors the next day, the investors were impressed by the story and what the the brand stood for: openness, accessible, daring and bold.
Alice Camera was a great name to represent their brand.
---
Thanks
That was the story about how we ended up naming our camera the Alice Camera. We will always be hugely grateful to Carolina for her wonderful spark of imagination 🙏🏽.